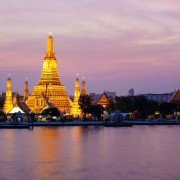 Find the best TEFL jobs in Thailand. OnTESOL assembled the best jobs in Bangkok for July and August. All jobs pay more than 30,000 baht per month and offer accommodation plus benefits. Apply now to teach English in Thailand! We have English Conversation jobs, English Literature jobs, TEYL jobs, and EFL teaching jobs*.
Entry-Level TEFL Jobs in Thailand
1- If you enjoy working with children and are invested in your student's academic future, join the team at Satit Udomseuksa School! The school is a prestigious private institute located in Pattaya City that focuses on children's education. Please note the school is seeking native English speakers only. Successful applicants will have a TEFL/TESL certification and ideally 2 years teaching experience. Monthly salary is 30,000 Baht. Please apply with a cover letter, resume, a recent photograph and two references to gm@sus.ac.th.
2- Apply to work with Oxford Street Co. Ltd. in Bangkok, a well known institution and receive 500 baht/hour. The successful applicant will have extensive teaching experience and TESL certification. The school is seeking native English speakers only and who have strong facilitation and conversational abilities. The institute is seeking individuals who are invested in their students progress and future and who are able to create dynamic lesson plans. Send your resume to jobton@hotmail.com.
3-Have a strong interest in literacy and working with youth and children? Apply to I Can Read System Co. Ltd., an internationally recognized institute focused on literacy for children's cognitive development! The successful applicant will have experience teaching literacy skills like reading, writing and speaking to children and will be trained by the institute based on their specialized program. The successful applicant will have a bachelor's degree or higher, a TESL/TEFL certification with a min. of 120 hours and must be able to communicate clearly and effectively. The position's salary for a twelve month contract starts at 40,000 baht with increases and bonuses after one year. Send a cover letter, resume with relevant qualifications, a valid telephone number and a photo or valid passport to recruitment@icanread.asia.
SINE Education – TEFL Job in Bangkok
SINE Education is looking for English conversation teachers to work in their Bangkok location. The starting salary is 30,000 baht per month for an 8-month contract. The job package includes medical insurance, work permit, and teaching materials. Native speakers only. Must have a university degree and an accredited TESOL certificate of at least 100 hours. Send your resume hr@sineeducation.com
BFITS – TEFL Job in Bangkok
BFITS Thailand: Teach English Literature at a private all girl school in downtown Bangkok. You will be required to teach 3 classes of grade 8 English Literature. Maximum 15 hours per week Apply Now
BKS – TEFL Job in Rural Thailand
BKS: Teach English Conversation classes in rural Thailand. TEFL job near Bangkok. Earn 30,000 baht per month plus accommodation! To apply send resume to recruiting@bangkoksuccess.com
High Paying TEFL Job!
Melodies Kinder: Earn 50,000 baht per month! Teach children in Thailand with Melodies Kinder. Teaching experience preferred. Send resume, copy of TESOL certification, and two letters of reference to Smith Udommana. E-mail: hr.melodies@gmail.com
EPP Plus Language School in Bangkok
EPP Plus Learning: Language school in Bangkok is looking for experienced English teachers to teach kindergardten and elementary. Documents required:
Copy of your passport and last visa page
Copy of your degree(s) and transcripts
Copy of relevant certificates
I.D. picture (no sunglasses or caps please)
E-mail documents to job@eppluslearning.com
*Always apply due diligence when searching for jobs and contacting employers. OnTESOL does not sponsor or have any relation with employers mentioned in this article.

What Makes Bangkok Such a Great City to Teach English?
Architecture
Bangkok is known for its jaw-dropping palaces and Buddhist temples. The most popular ones are:
The Grand Palace
Wat Phra Kaew
The Emerald Buddha
Food
Bangkok is one of the best cities to eat street food! It's healthy, affordable, and full of flavour! You can have a full meal at a street stall for under $2!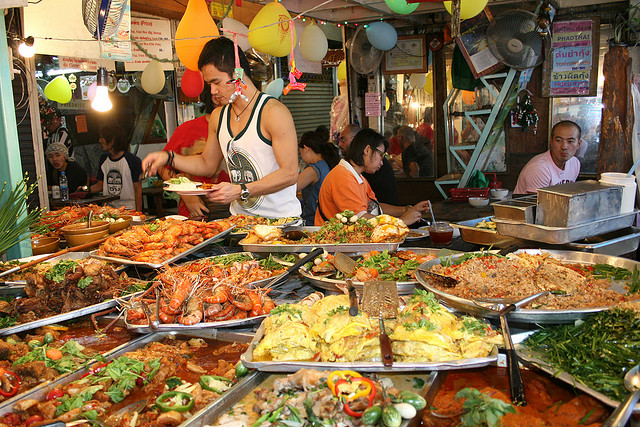 Picture by Anne Roberts
Travel
Those who teach English in Bangkok have better travel options in and out of Thailand. Airfare is cheaper and teachers can get more direct flights, so you can go to the beach one weekend and the mountain jungles the next!
http://tefl-jobs.ontesol.com/wp-content/uploads/2015/03/ontesol-logo1-300x137.jpg
0
0
admin
http://tefl-jobs.ontesol.com/wp-content/uploads/2015/03/ontesol-logo1-300x137.jpg
admin
2016-02-09 14:51:04
2016-08-30 22:27:16
English Teaching Jobs in Thailand