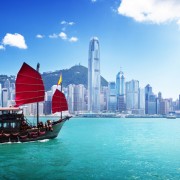 Hong Kong has the best paying TEFL jobs in Asia! Find the best English teaching jobs in Hong Kong using OnTESOL's free TEFL job board. No recruitment fees! Apply now to teach English in Hong Kong or contact school directors for more information. OnTESOL does not sponsor any school. Use due diligence when applying for jobs.   

Hong Kong Education Bureau
Earn one of the best salaries in the ESL industry with the Hong Kong Education Bureau (approximately CA$4,400 and $8,500/month; US$3,500 and $7,000/per month!) Must be a native English speaker, have a BA and a minimum of 120 Hour TESOL Certificate. Higher paying positions will be given to those candidates with a Master of Education and 270 hours of TESOL training. Apply via OnTESOL today!
Chancery English
One of the top schools in Hong Kong provides engaging and dynamic lessons to young and adult learners. Successful applicants must have a degree and a teaching certificate of 100 hours or more. Chancery is seeking applicants who have very strong communication skills and who are approachable. Monthly salary is 15000 to 22000. Contact Chancery English to apply.
miniMinds
miniMinds, a school passionate about providing quality programming to its students, is seeking likeminded, energetic individuals to join their team! The school prides itself on the nurturing and cozy environment it provides for its students. Successful applicants will be native English speakers, with at least two years of full-time teaching, a teaching degree or certified with TESL, TEFL, TESOL. Please note that the applicant must be available on Saturdays. If you're seeking an opportunity to excel in your career, please speak with Ivy, the Programme Director at miniMinds
International Languages Learning Club
Consider working for International Languages Learning Club! Join an expanding school with a strong and diverse team of teachers in an engaging teaching environment! Learners are between the ages of 1-12. Successful applicants must be creative and have a strong interest in the arts. The school is seeking an individual who is a confident and engaging communicator and who is available to work on week-ends. Monthly salary ranges between USD 2,000 and USD 3,200. Contact Sunny Lau at International Languages Learning Club
Prime Teachers
Babington Education
Babington Education
is looking to fill vacancies in many locations. This great school in Hong Kong is perfect for qualified teachers interested in career development opportunities. Develop and prepare your materials and contribute to the development of the school's curriculum! Apply now via e-mail. Send your CV to hr@babington.edu.hk
MLC Language Centre in Shatin, Hong Kong
MLC Language Centre is hiring experienced and certified teachers to teach English to young learners in Shatin. Established school offers competitive package in Hong Kong. Must have experience teaching integrated skills, phonics and grammar. BA degree plus TEFL certification is required. To apply, send e-mail to info@mlc.com.hk and include your CV, expected salary, recent photo, and availability.
Jolly Mind English Learning Centre – Yuen Long
Teach English to young learners in Yuen Long with Jolly Mind! Must have BA degree, one or more years of teaching experience, and an accredited TESOL or TEFL certificate. Must hold permanent HKID. To apply, send resume to info@jollymind.com.hk
English Focus Learning Centre
Teach young learners with small class sizes (5-10 students per class) for a British owned and managed language centre. Apply with current C.V., cover letter addressed to Miss Liu, School Administrator and a recent photograph to info@englishfocus.org  Should the application be successful, the centre will arrange a telephone/skype interview with you.
Kidz-n-us
Teach a wide variety of subjects to young learners including music, phonics, drama, science, cooking and music with Kidz-n-us! The school has modern facilities, a large staff and 4 locations in Hong Kong. Full benefits package including a salary of USD2,200-2900/month, airport pick up, airport pickup, and in-house training. Contact Sunny Lau, info@kidz-n-us.com Director, for more information and to apply. Website: http://www.kidz-n-us.com/
Are you a language school in Hong Kong looking for qualified ESL teachers? Contact us to post a job ad on our TEFL job board!
Recommended Reading
Get ready for your English teaching job in Hong Kong with these articles written by OnTESOL graduates!
How to teach a Multi-Level Class in Hong Kong
Classroom Management for Large Classes in Hong Kong
http://tefl-jobs.ontesol.com/wp-content/uploads/2015/03/ontesol-logo1-300x137.jpg
0
0
admin
http://tefl-jobs.ontesol.com/wp-content/uploads/2015/03/ontesol-logo1-300x137.jpg
admin
2018-02-15 16:25:03
2018-03-02 18:18:09
English Teaching Jobs in Hong Kong