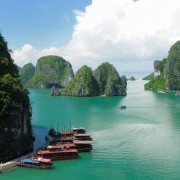 Apply for TESOL / TEFL jobs in Vietnam using the OnTESOL job board. Want to learn more about teaching English in Vietnam and the types of jobs available for certified teachers? This blog includes a list with more than 9 schools offering high-paying English teaching jobs in Vietnam.
Recommended TESOL certification for Vietnam ($200 OFF): Combined 140-hour TESOL program with Advanced 120-hour TESOL course and 20-hour TEYL Specialist
Vietnam USA Society English Centers – HCMC
Vietnam USA is looking to fill 200 positions in Ho Chi Minh City! All salaries based on qualifications and experience. BA in Education and/or TESOL/TEFL preferred. Candidates who have a BA in another area must have a valid TESOL/TEFL certificate. Teaching experience is preferred. If you are interested in applying for a position with VUS, you should have solid lesson planning skills as you will be required to submit a professional lesson plan during the application process. Teachers receive performance-based bonuses, work-permit assistance, free Vietnamese language lessons. Apply NOW!
American Academy Vietnam – Various Cities

TEFL jobs are available in Ha Tinh, Buon Me Thuot, Quang Ngai, Can Tho, Hue city, and Vung Tau! Earn up to $1,800 per month for teaching only 30 hours per week! Teachers also receive overtime pay, accommodation support, and visa support! Apply Now with American Academy!
Take this opportunity to work in an international environment, or the unique experience of working in a fascinating and rapidly developing country like Vietnam.
RMIT – Ho Chi Minh City, Danang, Hanoi
RMIT is currently seeking English educators with a Bachelor's degree, a minimum of 3 years in a similar role, TESOL certification. It is preferable that the candidate has experience producing high-quality curriculum materials. 20-hour work-week from 8-6 pm. Benefits include $28.50-$37/ hour depending on qualifications, world-class facilities, health insurance, professional development and academic guidance, opportunities for advancement, visa support. Apply now!
Saigon South International School
SSIS maintains ongoing openings for supply teachers to teach at the Elementary, Middle, and High School levels. We will contact you to cover short terms (3-4 days) or unexpected absences by our teachers. Requirements are as follows:
a TESOL certificate
A BA, BEd, BSc, or equivalent;
Fluency in English;
Recent teaching experience at the elementary or secondary school level.
We currently have a few spaces open on our list. If interested, please send all credentials. Learn more and apply now!
EFI Center – Nha Trang
EFI Centre is seeking a certified primary Native English speaker for Grade 1, 2 & 3 (6 to 8 YO) for the 2018 -2019 school year, beginning Sept. 2018 and ending June 2019. Subjects to be taught include English, Math, Sciences, and Social Studies. The teaching schedule is Monday to Thursday, from 7.45 am -3.30 pm and Fridays from 7.45 to 11.30 am.
Benefits include Refunded flights (total $1000 reimbursed), lunchtime meals provided at the school restaurant, 8 weeks vacation paid, 1500 USD $ with more details offered during the interview.
Requirements: Qualified teacher with 2 years in teaching experience, with BEd or Post Graduate Certificate in Education. Must be able to teach all subjects including Cambridge curriculum. ESL experience. Must have the ability to manage a multi-level and multicultural class, age, and ability levels. Must be a motivated team player who is fully committed to the teaching team so as to ensure the education and well-being of each student. Funny, approachable, dynamic, and responsible person. Learn more and apply today!
ILA
Teach English at one of ILA's 45 centers across Vietnam! We currently employ over 800 teachers and offer classes to over 40,000 students. Classes are geared towards both young learners and adults including IELTS, TOEFL, and Academic English. We also offer classes with partner schools and NGOs. We offer an excellent study and work environment for our teachers!
Requirements: University degree, native English speaker, minimum 120-hour TESOL/TEFL certification + 20-hour practicum, a clean police clearance certificate.
Benefits: Competitive salary that is based on performance, medical insurance, paid visa permit, contract re-signing bonus, friendly and professional teacher network, opportunity to grow and take on senior positions.Apply and find more information!
ACET Vietnam – Hanoi and Ho Chi Minh City
ACET is one of the most reputable language-teaching organizations in Vietnam. ACET is currently looking for experienced English instructors to teach IELTS, advanced/academic English classes, and their "First Steps" programs geared for teens.
Requirements: University degree, native English speaker (IELTS Band 8 for non-native speakers), minimum 120-hour TESOL/TEFL certification, 6 hour-minimum of observed lessons.
Benefits: Competitive salary that is based on experience and qualifications, paid visa permit, friendly and professional teacher network, opportunity to grow and take on senior positions. Apply and find more information!
EIV
EIV is a recruitment company in Vietnam. We send teachers to language schools, private classes, universities, colleges, and public schools.
EIV sends applicants to schools with the following excellent benefits:
A NET salary of $20/hour
A 9-month contract with 70 guaranteed teaching hours
Completion bonus
Medical insurance
Support to find housing and to obtain the visa
Staff outings and parties
Airport pick up
Free Vietnamese language lessons and much more!
Requirements include:
Teaching experience
Bachelor's degree
120-hour TESOL/TEFL certificate
Must be a native English speaker from Canada, the USA, Australia, or the UK
Must provide a valid health and police check
Related Articles:
How to teach an IELTS Reading Preparation Class in Vietnam
Communicative Techniques for Teaching IELTS in Vietnam
AMES
AMES Vietnam offers exciting one-to-one and group teaching opportunities.
We offer classes to a variety of age groups where you will have access to a teaching assistant, and the opportunity to plan your own unique lesson plans.
Benefits include a competitive salary, staff team building events, support with the work visa, opening a bank account and a bonus.
EMG Education
EMG is the first institute in Vietnam to establish a high-quality, international curriculum for public schools (grades 1-12).
EMG is seeking highly-skilled teachers interested in offering innovative ESL lessons in English, Math and Science in the public school system.
Must be able to create engaging lesson plans based on the schools' curriculum.
Be a team player and share resources with fellow teachers
Monitor student progress.
Requirements:
Be a native English speaker (hold a passport from an English-speaking country)
Have completed a 4-year university degree
Have an accredited 120-hour TESOL/TEFL certificate
Clear background check
Experience working in an academic environment
Benefits:
Competitive monthly salary (overtime pay included)
Support with the work visa
Transport to and from school
Paid holidays
Health insurance
https://tefl-jobs.ontesol.com/wp-content/uploads/2015/03/ontesol-logo1-300x137.jpg
0
0
OnTESOL
https://tefl-jobs.ontesol.com/wp-content/uploads/2015/03/ontesol-logo1-300x137.jpg
OnTESOL
2022-02-28 14:08:00
2022-03-01 19:45:44
9 Highly Paid English Teaching Jobs in Vietnam