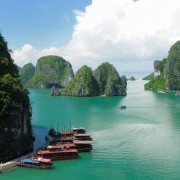 Apply for TEFL jobs in Vietnam today! No job placement fee! Every month we post the latest English teaching jobs in Vietnam. Some recruitment agencies will hide the name of the employer until you are deep in the application process, so this TEFL job board includes job postings with direct access to schools' websites, so you know where you are applying and you can contact schools directly for more information! OnTESOL does not sponsor any employer. Use due diligence when applying for jobs.
                                                                        –Accredited Online TEFL Courses–

Amslink
Applications for 2018 are now open with Amslink! The institute is now hiring  two teachers for May, two teachers for June and three teachers in July for 2018. Founded in 2011, Amslink is the largest English language institute in Hanoi. With several branches across Vietnam, Amslink offers English language classes to over 3000 students. Benefits include USD 1500-USD 2000 monthly salary, visa fee covered, one way airline ticket reimbursed, holidays, performance bonus after six months of employment, laptop, stationary and other equipment to perform job. Apply via OnTESOL!
COMPASS Education –
Ho Chi Minh City, Vietnam
Earn up to $20/hour! Work only 25 hours a week! COMPASS Education is looking for native English teachers to teach at primary schools across Ho Chi Minh City. Candidates must have a BA degree, an internationally recognized TESOL/TEFL certificate, and experience teaching at primary schools. COMPASS provides assistance with the work visa. Teachers get extra pay for extra-curricular activities and performance-based bonuses. Apply today!
Vietnam USA Society English Centers – HCMC
 –Recommended reading: Teaching English in Vietnam – How to Find Your Dream Job!–
Vietnam USA is looking to fill 200 positions in Ho Chi Minh City! All salaries based on qualifications and experience. BA in Education and/or TESOL/TEFL preferred. Candidates who have a BA in another area must have a valid TESOL/TEFL certificate. Teaching experience is preferred. If you are interested in applying for a position with VUS, you should have solid lesson planning skills as you will be required to submit a professional lesson plan during the application process. Teachers receive performance-based bonuses, work-permit assistance, free Vietnamese language lessons. Apply NOW!
American Academy Vietnam – Various Cities

TEFL jobs available in Ha Tinh, Buon Me Thuot, Quang Ngai, Can Tho,Hue city, and Vung Tau! Earn up to $1,800 per month for teaching only 30 hours per week!   Teachers also receive overtime pay, accommodation support, and visa support! Apply Now with American Academy!
IEG
IEG hires teachers year round to join our dynamic and collaborative institute. We are seeking passionate individuals who are dedicated and ready to rise to the challenge of being outstanding teachers! Must be native English speaking teachers with  2 years previous teaching experience (preferred), a Bachelor's Degree and TESOL certification.  Benefits include a competitive salary,  assistance with visa and visa renewals,  and applying for a work permit with a 50% reimbursement of the work permit. Stock options set up for highly rated full time teachers and staff. Apply today!
RMIT
Take this opportunity to work in an international environment, or the unique experience of working in a fascinating and rapidly developing country like Vietnam.
RMIT is currently seeking English educators with a Master's degree, a minimum of 5 years in a similar role, TESOL certification, and demonstrated experience teaching pathway programs, diploma programs and/or online education. It is preferable that the candidate has experience producing high quality curriculum materials. 20 hour work week from 8-6 pm. Preference will be given to applicants currently residing in Vietnam. Benefits include: $28-$36/ hour depending on qualifications, world class facilities, health insurance, professional development and academic guidance, opportunities for advancement, visa support. Apply now!
Saigon South International School
SSIS maintains ongoing openings for supply teachers to teach at the Elementary, Middle and High School levels.  We will contact you to cover short terms (3-4 days) or unexpected absences by our teachers. Requirements are as follows:
a TESOL certificate
A BA, BEd, BSc, or equivalent;
Fluency in English;
Recent teaching experience at the elementary or secondary school level.
We currently have a few spaces open on our list. If interested, please send all credentials. Learn more and apply now!
Apollo English
Apollo English is now seeking energetic, creative and dedicated young learner teachers to begin April/May 2018. We are proud to offer our teachers a comprehensive benefits package which includes a competitive salary, overtime payment, 15 days vacation and a completion bonus. modern facilities, academic support and much more! Apply today! 
Shelton Development Group – Various locations
Internationally renowned Shelton DG has a number of available positions at various locations including our headquarters/ curriculum testing laboratory in Thanh Xuan District (near Royal City), local Kindergartens and at State Schools in Hanoi. We are offering Full & Part time opportunities. Part Time salary is 20 – 23 USD/hour. Benefits include: A bonus for long term employment, support with visa and work permit (paid by teacher.) Full Time salary is 20 – 25 USD/hour. Benefits include: paid work permit, min. 6 month contract, end of contract bonus + extra incentives. We provide excellent on-going teacher development & support  as well as orientation to Vietnam and its culture. REQUIREMENTS: Bachelor Degree or higher, TESOL Teaching Certificate, clean criminal Background Check, business or work visa.  Learn more and apply now! 
EFI Center – Nha Trang
EFI Centre is seeking a certified primary Native English speaker for Grade 1, 2 & 3 (6 to 8 YO) for the 2018 -2019 school year , beginning Sept. 2018 and ending June 2019.  Subjects to be taught include English,  Math, Sciences and Social Studies. Teaching schedule is Monday to Thursday, from 7.45am -3.30 pm and Fridays from 7.45 to 11.30 am.
Benefits include:  Refunded flights (total $1000 reimbursed),  lunch time meals provided at the school restaurant, 8 weeks vacation paid, 1500 USD $  with more details offered during interview.
Requirements: Qualified teacher with 2 years min teaching experience, with BEd or Post Graduate Certificate in Education. Must be able to teach all subjects including Cambridge curriculum. ESL experience. Must have the ability to manage a multi-level and multicultural class,  age and ability levels. Must be a motivated team player who is fully committed to the teaching team so as to ensure the educational and well-being of each student. Funny, approachable, dynamic and responsible person. Learn more and apply today!
ILA
Teach English at one of ILA's 45 centres across Vietnam! We currently employ over 800 teachers and offer classes to over 40,000 students. Classes are geared towards both young learners and adults including IELTS, TOEFL and Academic English. We also offer classes with partner schools and NGOs. We offer an excellent study and work environment for our teachers!
Requirements: University degree, native English speaker, minimum 120-hour TESOL/TEFL certification + 20-hour practicum, a clean police clearance certificate.
Benefits: competitive salary that is based on performance, medical insurance, paid visa permit, contract re-signing bonus, friendly and professional teacher network, opportunity to grow and take on senior positions.Apply and find more information!
Related Articles:
How to teach an IELTS Reading Preparation Class in Vietnam
https://tefl-jobs.ontesol.com/wp-content/uploads/2015/03/ontesol-logo1-300x137.jpg
0
0
admin
https://tefl-jobs.ontesol.com/wp-content/uploads/2015/03/ontesol-logo1-300x137.jpg
admin
2020-08-13 02:07:00
2020-08-31 20:47:45
English Teaching Jobs in Vietnam