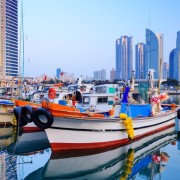 Private and public school TEFL jobs in South Korea. Find English teaching jobs in South Korea and apply today! Why teach English in South Korea? High-paying jobs, free accommodation, no experienced required! South Korea is perfect for recent university graduates who want to teach English abroad. If you have a degree and an accredited TESOL certificate, you can apply for the best TEFL jobs in South Korea today!

EPIK – Public School Jobs in Korea
OnTESOL is happy to announce that EPIK applications are now open for Spring 2018! This is an excellent opportunity for new teachers. EPIK offers thorough orientation and support setting up upon arrival. Earn 1.8-2.7 million won* per month plus paid accommodation, airfare allowance for entry and exit, vacation pay, health coverage, and much more! 22 classes per week. Hours: 8:30am to 4:30pm.   Monday to Friday.  No weekends, no split shifts.
*(CA$2,000-$3,200);(US$1,600-$2,600)
OnTESOL offers free recruitment with EPIK! Apply for public school TEFL jobs in Korea! 
Recommended Reading:
Production Stage: Supplementing the Grade 6 Cheonjae Textbook with Authentic Material
TESOL in South Korea: Using L1 and End-of-Lesson Projects with Beginner Students
Teaching with EPIK in South Korea: Supplementing Grade 4 and 5 Cheonjae Textbooks with Authentic Material
YBM Language Institutes – TEFL Jobs in Many Locations!
TEFL jobs in Incheon (YBM Juan – November), Seongnam (YBM Bundang – October), and Seoul (YBM Gangnam Daero– October; YBM Kondae Station – October; YBM Jongno – October, December, January). YBM Language Institutes is looking for certified ESL teachers to teach one-to-one and small adult ESL classes. Teach English in South Korea with an established organization that welcomes creativity and independence! YBM offers standardized materials and text, and teachers are encouraged to create unique lessons using material that caters to each class. Starting salary is 2.5 million won! (Base salary at a public school is 1.8 million won). Benefits include housing allowance, prepaid airfare, visa processing, and paid vacation! To apply for this great TEFL job, send your resume, cover letter, scanned copy of passport, scanned copy of federal criminal background check, scanned copy of university diploma and TESOL/TEFL certification, a recent photo, and indication of location and start date to the national academic director gregstapleton@ybmsisa.com
Chung Dahm Learning – Many Locations
Apply for TEFL jobs today with one of the largest private school companies in South Korea!  Chung Dahm Learning has over 120 locations in South Korea and caters to over 40,000 students a year. Base salary is 2.1 million won. Package include arranged accommodation and airfare reimbursement. No teaching experience is required! Must be a native speaker and hold a university degree. Recommended TESOL/TEFL certification: 120-hour TEFL certificate. Apply online! Teach in Korea Chung Dahm Application Form
Pagoda
One of South Korea's largest and most well-renowned language schools is hiring periodically throughout the year. We offer English language training to general consumers, business executives and to young professionals. Pagoda seeks high energy individuals who are passionate about teaching and providing an enriching experience for their students. We provide a comprehensive benefits package to meet all of your needs. Must be a native English speaker ( with a passport from an English speaking country) , have a Bachelor's degree and a TESOL certificate. To apply email your CV and photo to HelloJobPagoda@gmail.com.
http://tefl-jobs.ontesol.com/wp-content/uploads/2015/03/ontesol-logo1-300x137.jpg
0
0
admin
http://tefl-jobs.ontesol.com/wp-content/uploads/2015/03/ontesol-logo1-300x137.jpg
admin
2018-04-11 02:18:31
2018-04-11 19:21:53
English Teaching Jobs in South Korea