Riyadh has evolved from a sandy desert outpost to the fastest growing city in the world. Since 1970s, due to substantial influx of oil revenue, its population has tripled and soaring and sparkling modern towers glaze over the old desert.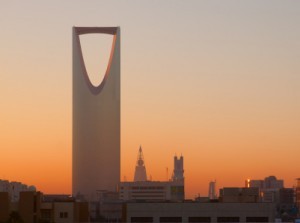 Riyadh city encompasses some of the most remarkable landmarks in the history of the Kingdom, such as the Al-Masmak Fort and towns formed by traditional mud-brick houses. Constructed in 1937, King Abdulaziz's Murabba Palace was considered to be the Riyadh city itself by the travellers coming to this region. Much of this old palace has been reconstructed into 'The King Abdulaziz Historical Centre' which has become a popular tourist destination. Some examples of contemporary landmarks include Burj Al Mamlak, Burj Al Faisaliyah and Riyadh TV Tower.
Riyadh is also the top Saudi destination for ESL teachers. If you are looking to teach at university, a Master's in TESOL is required. If you have more than 2 years of teaching experience and an advanced TESOL certification or diploma such as TESL Canada Standard 2, CELTA, or Trinity CertTESOL, you can apply to private ESL schools. Get your TESOL certificate with OnTESOL!
Saudi Arabia is a very popular destination because wages are very high, so many recruiters are standing by to help you with a job. Never pay for recruitment services and research the company thoroughly on the many TESOL websites and forums.
https://tefl-jobs.ontesol.com/wp-content/uploads/2015/03/ontesol-logo1-300x137.jpg
0
0
Ontesol- Online TESOL Courses
https://tefl-jobs.ontesol.com/wp-content/uploads/2015/03/ontesol-logo1-300x137.jpg
Ontesol- Online TESOL Courses
2011-10-26 17:16:26
2015-06-19 16:58:15
TEFL Riyadh