Experience Dolce Vita at its best! Beautiful weather, amazing architecture, and world-class museums attract tourists from all over the world.
The historical center of Florence is Piazza Della Signoria, where you will find gorgeous and well-maintained structures such as Palazzo Vecchio (old city hall), Tribunale Della Mercanzia (The old Tribunal of Merchandise), and Michelangelo's statue of David.
At the square, there are many restaurants and cafes where you can have a taste of Tuscany's famous cuisine. If you are on a budget, you can get a gelato and sit on a bench or walk a few blocks to Ponte Vecchio for an amazing sunset view over the river.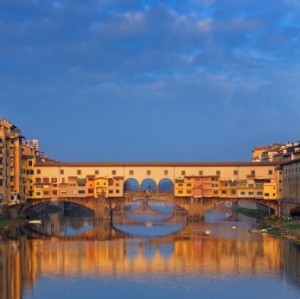 The Santa Maria Duomo cathedral is another place worth a visit. This huge Gothic cathedral will give you goose-bumps as you make your way in.
If you're up for a little exercise, try climbing the 414 stairs leading to the top of the Campanile- Bell tower!
Last but not the least, you can find the best paintings and art from the renaissance at the Galleria Degli Uffizi. Ancient sculptures, medieval, and modern art made by legendary artists such as Michelangelo, Giotto, Leonardo da Vinci and Raphael are found at the gallery.
Florence is also distinguished for its great shopping experience, perhaps the finest in Europe. There are some great open-air market places with shops that sell fine leather goods and jewellery.
Italy is a very popular TESOL destination for North Americans with an Italian background. A EU passport and a 100-hour TESOL certificate are the minimum requirements for teaching English in Italy.
https://tefl-jobs.ontesol.com/wp-content/uploads/2015/03/ontesol-logo1-300x137.jpg
0
0
Ontesol- Online TESOL Courses
https://tefl-jobs.ontesol.com/wp-content/uploads/2015/03/ontesol-logo1-300x137.jpg
Ontesol- Online TESOL Courses
2012-04-25 18:29:07
2014-02-04 19:56:58
TESOL Florence